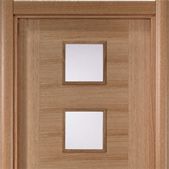 JB Kind Modern Architrave
Ideal complement for our internal door ranges. Veneer wrapped mdf architraves in Oak, available either varnished or unvarnished.

Architrave pack contains 4 pieces 2200mm - Jambs 70 x 20mm and 2 pieces 1100mm - Heads 70 x 10mm.
1 quantity for 2 sides of a single door.

JB Kind Modern Architrave
Ideal addition for JB Kind internal door ranges
Real oak veneer available in either varnished or unvarnished
Veneer wrapped architraves
Pack contains: 4 jambs, 2 heads, for one door on both sides